homesecuresite.com is a browser hijacker that redirects Internet programs to a malicious online virus scanner web pages, which detects false spyware and adware. The site will provide numerous threats supposedly found on your computer. Keep in mind that posted threats do not exists on your computer. It is mererly a trick to mislead victims. There are a number of web sites that was purposely built to promote rogue anti-virus and tools and homesecuresite.com is just one of them
Another interesting observation is that uploading of homesecuresite.com fake security web site aims to spread a copy of various fake anti-virus software. The web site will promote rogue antivirus program by means of deceptive pretences like issuing fake online virus scan results. After the scan, homesecuresite.com will prompt visitor to download a recommended program in order to remove threats.
A force redirection of Internet browser to homesecuresite.com web site signifies a Trojan or similar threats have infected the PC. Downloading files from this dangerous web site will further harm the computer. Keep away from visiting or downloading files from unknown sites. Prevention is possible if an antivirus program with real-time protection is present.
Remove homesecuresite.com using only trusted security programs that are readily available from various vendors. Alternatively, follow the removal guide on this page to remove the browser hijacker.
Risk Level: Low
File Size: Varies
Affected System: Windows
homesecuresite.com also performs the following:
1. When pointed to homesecuresite.com, a message will appear:
Warning! [email protected] is a virus that infects files with .exe extensions. It attempts to steal passwords and private information from the infected computer. If you are infected with this hijacker you will receive warnings in your task bar stating that you are infected with spyware and to run its special anti-spyware tool."
Signs and Symptoms of homesecuresite.com Infection:
Browser is redirected to homesecuresite.com web sites
Trojan usually infects a web browser in order to redirect it to another web page that contains additional malware. In some instances, redirects are used to promote a rogue program such as fake antivirus products.
Exhibits fake pop-ups and security alert
In order to deceive computer users, homesecuresite.com will exhibit a bunch of fake security alerts and warning messages. It also intends to promote the malware as the sole remover for identified threats.
homesecuresite.com will detect errors and threats that do not exists
If the redirect intends to promote a rogue program, user may see a bunch of fake detection after the browser is redirected to a malicious page. Keep in mind that that detection is fictitious and does not really exists in the computer at all. This trick is common to viruses and malware that uses redirect methods.
Other Functions of homesecuresite.com:
homesecuresite.com will arrive on computer via another virus infection
Internet browser can be redirected to unknown address that is usually the location of other malware
homesecuresite.com may contact a remote computer and download more threats
homesecuresite.com will display excessive advertisements on the computer
This threat also monitors Internet activity on the infected PC
How to Remove homesecuresite.com
Remove the rootkit Trojan causing the redirect
Anti-rootkit utility called TDSSKiller is a free tool from Kasperksy that neutralizes complicated malware which effectively hides its process, folders, files and registry entries.
1. Download TDSSKiller from this link. Save the file to your desktop.
2. Extract the contents using archiver applications.
3. Reboot the computer in Safe Mode to avoid homesecuresite.com from loading at start-up. You may want to print this procedure as we have to restart the computer to complete the removal process.
- Restart the computer.
- Before Windows begins to load, press F8 on your keyboard.
- It will display an Advanced Boot Options menu. Select Safe Mode with Networking.
- Windows will now start in Safe Mode.
4. Locate and run the TDSSKiller.exe file.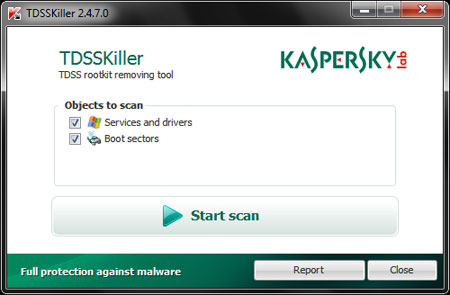 5. On Object to Scan, please mark
Services and drivers
as well as
Boot Sectors
.
6. Click on
Start Scan
to begin scanning your system. This may take a while.
7. After the scan is finished, it will reboot the computer. That should complete the disinfection process.
Download and scan with Malwarebytes Anti-Malware
1. Download Malwarebytes' Anti-Malware from this link and save it on your Desktop.
2. After downloading, double-click on mbam-setup.exe to install the application.
3. Follow the prompts and install as default only.

4. Before the installation completes, check on the following prompts:
- Update Malwarebytes' Anti-Malware
- Launch Malwarebytes' Anti-Malware
5. Click Finish. Program will run automatically and you will be prompt to update the program before doing a scan. Please update.
6. Scan your computer thoroughly.
7. When scanning is finished click on the Show Results button.
8. Make sure that all detected threats are marked, click on Remove Selected.
9. Restart your computer.
Note: Some malware may prevent mbam-setup.exe from downloading and running. You can download and rename this program from a different computer before running it on infected system.