Google Chrome browser is probably the most targeted internet program by malware today. Aside from having enormous amount of users, the program is open to third-party extension developers. This is also the same reason why many cyber criminals are focusing on making dubious extension that aims to exploit vulnerabilities on susceptible Google Chrome users.
Normally, cyber criminals are utilizing freeware bundles to implant their malicious creations on the browser. Their codes are well hidden inside attractive executable files serve by a number of websites and trick users about the importance of downloading and installing them. It usually masquerade as search enhancement, download helper, media player, and so on.
Users who obtain such deceiving free application are unaware that supplementary files, including dubious extension will also be loaded onto the browser. As a result, Google Chrome browser will suffer from hijacking, redirects, excessive pop-up ads, and other annoying occurrences caused by adware infection.
On this guide, we will show you the easiest way to remove Adware, potentially unwanted programs (PUP), pop-ups, and annoying warnings simply by resetting Google Chrome browser to its default value.
Reset Google Chrome to Default Value (PC and Mac)
This procedure will reset startup page and new tab, so if there are unwanted homepage, it will get eliminated during this process. Resetting Google Chrome to its default settings also disables all extension and adware relevant applet is included with this. Follow the procedures below to reset Google Chrome and start to get rid of adware from the browser.
1 Open Google Chrome browser.
2 At the top right portion of the browser, click the icon of Customize and Control Google Chrome.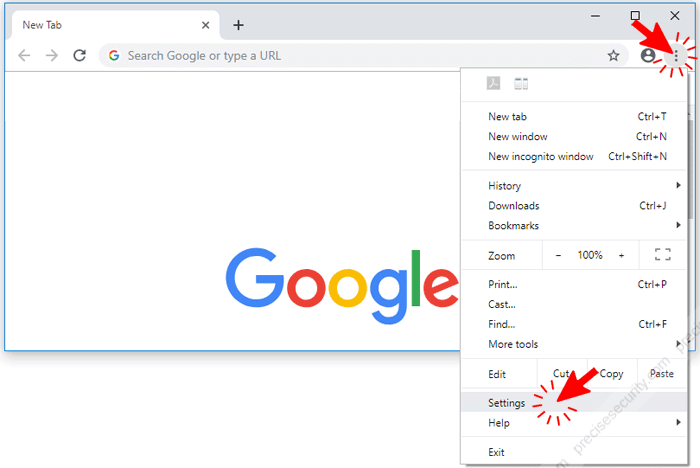 3 On the drop-down list, select and click Settings.
4 Navigate to the bottom of the page and click Advanced and proceed below depending on your operating system.
MS Windows
Under "Reset and cleanup" section, click on Restore settings to their original defaults.
Mac, Linux, and Chromebook
Under "Reset Settings" area, click on Restore settings to their original defaults.

5 Please restart Google Chrome browser.
Tutorial Video